This article is about irresponsible lending of car finance. Let's set off on our journey….
With Allegiant Portal, you can quickly and easily allow Allegiant read-only access to your credit file and bank statements. If you've signed up with us to make an unaffordable lending claim against your lender, you may shortly receive an invite link to our Portal.
Your credit file and bank statements can unlock your car finance irresponsible lending claim. How? We explain this, and more, below.
What do lenders do wrong?
A lender might fail to do enough background checks to ensure that the finance agreement is sustainably affordable for the customer.
It is quite common for lenders to carry out a 'credit check' but it might be that the lender didn't react as it should to the results of the credit check. Sometimes, a deeper dive into the customer's income and outgoings is needed – to truly understand if the finance is going to be affordable. This is especially true if there are signs on the credit check results that the customer might already be struggling with their money.
In this example, the concerning signs the lender saw on the credit check should have ignited a deeper dive into the customer's financial circumstances. But because the lender didn't do the extra checks, its checks were not detailed enough:
"I don't think that the checks Advantage Finance carried out did go far enough. Advantage Finance's searches showed that Miss B had had previous difficulties with credit. I can see arrears on an electricity account and defaults on other revolving credit accounts. In my view, Advantage Finance needed to take further steps to verify Miss B's actual living costs, given what the credit search showed in order for its checks to have been proportionate."

https://www.financial-ombudsman.org.uk/decision/DRN-3964331.pdf
Sometimes a lender might not bother to investigate a customer's income and expenditure, simply because the lender's past dealings with the customer show that the customer has paid on time. But car finance usually involves lending a very large amount of money – so not exploring whether the customer's circumstances may have changed – or seeing evidence of the customer's current disposable income – is unlikely to be good enough:
"BMWFS have explained that the underwriter's notes say Mr N was "auto accepted". They say he was an "A1 payer" on his previous agreement and provided all the detail they needed to establish he could afford the repayments on this deal. They've not provided any further information about the detail they were given by Mr N."

"This was, I think it's reasonable to say, a significant amount of credit and a significant increase in monthly payments. I don't think BMWFS have provided sufficient information here to demonstrate their checks were sufficient."

https://www.financial-ombudsman.org.uk/decision/DRN7820038.pdf
Unlocking the claim
Even if a lender has not done its job properly, and not carried out enough affordability checks, it doesn't automatically follow that the customer will be compensated for the wrongdoing. Instead, evidence will need to be provided that more detailed checks would have revealed that the car finance was never affordable in the first place.
A credit report and the bank statements are usually the evidence that will unlock the claim – for the customer to be compensated. For example, bank statements can be the key to the irresponsible lending claim, as they might prove that there was a very low disposable income – meaning that the lender shouldn't have approved the finance.
The lending rules don't specify that lenders have to look at a customer's bank statements before agreeing car finance. However, bank statements can be really good at showing the level of detail the lender should have discovered, had the lender done its job properly (and carried out a deeper dive into the income, outgoings, and overall financial picture):
"I've reviewed his bank statements for the three months leading up to the lending decision. To be clear, I'm not suggesting Santander needed to request bank statements, but I think what the statements show about Mr A's income gives a reasonable indication of what information Santander would have likely discovered had it attempted to verify his income"

https://www.financial-ombudsman.org.uk/decision/DRN-2238722.pdf
What bank statements exactly show will vary from customer to customer – reflecting the diversity of different circumstances of people in the UK. But a lot of people need to use their monthly income to pay for food, rent or mortgage, childcare, bills and other borrowing commitments. On top of these expenses, there are additional costs associated with taking out car finance. And for customers buying their first car, these could be expenses they've never had to consider before – potentially making their finances much more stretched: petrol, insurance, road tax, maintenance/repairs, parking fees and tolls…
"Mr F would be left £183 disposable income a month. I don't consider £183 a month to be sufficient for Mr F to cover his food, fuel, expenses related to his new car, and other outgoings such as clothing. So, for this reason, I don't think the finance was affordable or the payments sustainable. And in not doing the additional checks I'd expect them to do, MotoNovo didn't act responsibly when approving the finance."

https://www.financial-ombudsman.org.uk/decision/DRN-2108802.pdf
Compensation for unaffordable car finance
Usually, a successful unaffordable lending claim will result in the customer having to pay back no more than the amount of money borrowed. This means that any interest and charges on the borrowing would need to be removed and/or refunded back to the customer. The aim, as far as possible, is to put the customer back in the position they would have been in, had the irresponsible lending not happened.
With car finance, it is a little bit more complicated than other types of borrowing. This is because there is a certain benefit and convenience to having, and driving, a car obtained on finance. Often, the expectation will be that the customer will need to return the car back to the lender and amounts calculated for 'fair usage' of the car may be taken off any compensation being awarded to the customer.
There are lots of different scenarios, depending on whether the customer still has the car, or perhaps has already returned it. In this example, the customer no longer had the car. Because they no longer had the car, they obviously couldn't return it to the lender. But because the car finance was provided irresponsibly, the customer only had to pay the cash price of the car (not any of the interest):
"As I don't think Moneybarn ought to have approved the lending, I would usually ask Moneybarn to refund all the payments made under the agreement, including the deposit, subject to a fair usage allowance for the amount of time that Mr L had use of the car.

But in this case it appears that Mr L sold the car privately in March 2021. That means there is no available asset to be returned and so Mr L is therefore liable to repay the cash price of the car.

It follows that Mr L is required to repay Moneybarn the cash price of the car, being £7,700, less the £1,000 cash deposit."

https://www.financial-ombudsman.org.uk/decision/DRN-3792359.pdf
A customer who is provided unaffordable car finance, and still has the car, should be prepared to return the car if the finance agreement is still live. There have been examples of customers wanting to keep their cars, but the Financial Ombudsman Service won't necessarily agree with this request:
"Mr K says he would like to keep the car and I can understand his reasons for wanting to do so. But given that I'm of the view that the finance shouldn't have been granted in the first instance, it means I'm now asking BMFL to terminate the agreement.

I note that the cash price of the car was £17,480. From the information provided, Mr K had repaid around £9,000 (including the deposit) as of 1 March 2023, which represents about 50% of the cash price. But the purpose of our awards is to try as best as possible to place consumers like Mr K back in the position they would have been in had the unfair lending not taken place.

Mr K doesn't own the car and as things stand he's a long way from paying off the cash price. I'm also of the view that allowing Mr K to keep the car and allowing him to repay the remaining capital balance owing on it at affordable monthly repayments (as he has requested) would be unfair on BMFL."

https://www.financial-ombudsman.org.uk/decision/DRN-4158561.pdf
It's worth noting that customers who have fully paid for their car already, by completing all the contractual monthly payments over the term of the finance, should NOT have to return their car to the lender, as a part of a successful irresponsible lending claim.
It is not unusual to feel that the car finance was irresponsibly provided, and unaffordable, whilst at the same time wanting to keep the car. Some lenders might try and suggest otherwise, but there is no contradiction there; after all, the 'car' and the 'finance' are two separate things. For example, the customer might have really wanted the car, but couldn't – in reality – afford the finance. And it's down to the lender to have spotted this before agreeing to lend in the first place. That said, returning the car back to the lender is often an important part of placing the customer back in the position they would have been in had the irresponsible lending not occurred.
Finally, there is this example, where the customer was allowed to keep the car – but it was only down to the individual circumstances of that customer:
"Mr C has told us he wishes to keep the car and is able to pay the total cash price figure by borrowing from relatives. I have seen from Moneybarn's statement of account dated 13 February 2023 that Mr C has made payments that total £9,711.09. That means there is currently a total of £2,028.91 left to pay in order to meet the original cash price of the car of £11,740.

In the specific circumstances of this complaint, I think Mr C's offer to pay what is a relatively small outstanding sum in order to have paid the total cash price of the car is reasonable, provided it is done within a definite and short period of time."

https://www.financial-ombudsman.org.uk/decision/DRN-3847988.pdf
Allegiant Portal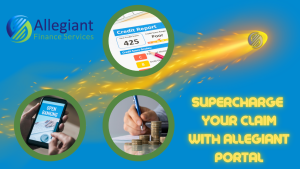 For Allegiant customers, the Portal is free. This is because we will only charge you a fee based on any compensation payout, when a successful claim is concluded.
By teaming up with UKCreditRatings and Yapily, your consent allows us to quickly and easily read your credit report and bank statements – for unaffordability to be properly assessed. We will send you an invite to our Portal, if we believe it may help your claim.
As a reminder, Allegiant is a claims management company, authorised and regulated by the Financial Conduct Authority (FCA). You can look us up on the FCA's Financial Services Register to find our details. You may also wish to look up 'Yapily Connect Ltd', as you will see on the register that Allegiant and Yapily are connected companies to each other, for the purpose of providing our Portal: https://register.fca.org.uk/s/firm?id=0010X00004J9MH9QAN.
Summary
Car finance lenders sometimes fail to carry out detailed and proportionate affordability checks.
These failures (to do sufficient checks) do not necessarily mean that the car finance was automatically mis-sold.
Credit reports and bank statements are the key pieces of evidence to unlock an irresponsible lending claim – by showing what the lender ought to have discovered had it done proper checks. Customers can agree for Allegiant to view these key pieces of evidence through our portal.
If the evidence shows that the customer has been a victim of irresponsible lending, the customer should be put back in the position as if the lending never happened. This may involve returning the car back to the lender. On irresponsibly provided car finance, the customer is not usually expected to pay for any interest on the borrowing – although 'fair usage' of the car does sometimes need to be considered.
If we are helping you with your claim, Allegiant Portal is a quick and easy way of unlocking the key evidence for Allegiant to assess unaffordability on your behalf.