Car Finance is a way of borrowing money to purchase a vehicle. You will usually own the vehicle if you make all the repayments. But we've seen shocking examples of lenders failing to carry out detailed background checks to ensure the finance was sustainably affordable for the customer. When finance is proven to be unaffordable from the outset, you should get your interest and charges refunded.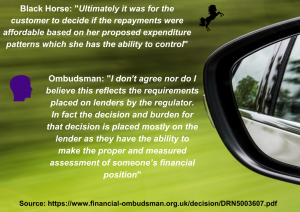 What are the different types of Car Finance?
Hire Purchase agreements are a popular way of financing the purchase of a new or used car (although Hire Purchase agreements are not just for cars). Upon the last payment being made, you own the vehicle.
A Personal Contract Purchase (PCP) is another way of financing a new or used car. You make monthly repayments, although you won't own the vehicle at the end of the agreement. This is because the repayments are towards the depreciation in value of the vehicle over time, rather than the cost of the vehicle outright. Whilst it might be an attractive option for some customers, the agreement still needs to be affordable.
There are other types Car Finance – such as Conditional Sales and Car Leasing. No matter what the type of Car Finance, the repayments could be hundreds of pounds a month – which some customers struggle to afford.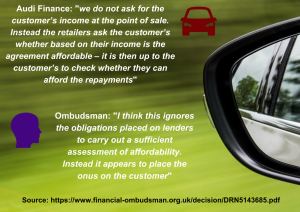 Winning compensation from a Car Finance affordability claim
Whether you win your claim or not depends on lots of different things; there are no guarantees, but Allegiant will guide you and advise you.
You shouldn't assume that your lender did their job properly by providing you with the finance. Some lenders do not even check the customer's regular income and expenditure information. And how can a lender say the finance was affordable if it hasn't found out the customer's income and expenditure?
In upholding a complaint about a PCP agreement, an Ombudsman outlined his shock at what the lender thought were good enough affordability checks:
"I express some surprise that BMW does not think it needed an income and expenditure check. I've already said it's up to a business to decide what information it needs – but without even the most basic details of income and expenditure it's hard to see how any plausible assessment could be made." https://www.financial-ombudsman.org.uk/decision/DRN2569015.pdf
In another legally-binding decision, the ombudsman made it clear that the lender's affordability checks were not good enough:
"I think Volkswagen had a responsibility to ask Mrs L for further details about her income and expenditure. Based on all the evidence, I'm not persuaded Volkswagen asked for those details, or for any supporting documents. So, I think there were a number of unanswered questions that Volkswagen needed to address, before it would have been reasonable and proportionate to proceed with Mrs L's agreement. In these circumstances, as Volkswagen didn't take additional steps to verify Mrs L's income and expenditure, I think their checks before providing the hire purchase agreement to Mrs L, weren't reasonable and proportionate."  https://www.financial-ombudsman.org.uk/decision/DRN-3861546.pdf
It seems almost unbelievable, but some lenders openly admit the fact that they do not carry out the income and expenditure checks that they should be doing. Audi Finance have said:
"we do not ask for the customer's income at the point of sale. Instead the retailers ask the customer's whether based on their income is the agreement affordable – it is then up to the customer's to check whether they can afford the repayments" https://www.financial-ombudsman.org.uk/decision/DRN5143685.pdf
Similarly, Black Horse have said:
"Ultimately it was for the customer to decide if the repayments were affordable based on her proposed expenditure patterns" https://www.financial-ombudsman.org.uk/decision/DRN5003607.pdf
It is, of course, ridiculous for lenders to try and pass the buck and say it is the customer's responsibility to check the finance was affordable. In responding to the above comment by Black Horse, the ombudsman made a clear statement that it's mainly the lender's responsibility – not the customer's – to ensure that the finance is affordable:
"I don't agree nor do I believe this reflects the requirements placed on lenders by the regulator. In fact the decision and burden for that decision is placed mostly on the lender as they have the ability to make the proper and measured assessment of someone's financial position" https://www.financial-ombudsman.org.uk/decision/DRN5003607.pdf
The lender should be taking into account the customer's income and regular expenditure – together with the fact that running a car carries its own associated costs. Here is an example from a legally-binding ombudsman's decision made against FCA Automotive Services UK Ltd ("FCA"):
"That left a monthly disposable income of about £582 from which food, petrol, car tax and maintenance, car insurance (expensive given Mr T's young age), and the new loan of £255 per month would need to be financed. I think this gave a clear indication that Mr T wasn't in a position to afford the repayments towards the new agreement without experiencing difficulty or having to borrow further. FCA therefore didn't make a fair lending decision."
"As I don't think FCA ought to have approved the lending, I don't think it's fair for it to be able to charge any interest or charges under the agreement. Mr T should therefore only have to pay the original cash price of the car" https://www.financial-ombudsman.org.uk/decision/DRN-3249834.pdf
Our Unaffordable Lending Claims Process
We realise that claiming against a high cost loan lender can seem daunting. We aim to make the claiming process as simple as possible. We specialise in affordability claims. Our experienced team will communicate with the lender (and where required, the Ombudsman service) on your behalf. We use bespoke technology to ensure efficient claims handling. Throughout the process, we inform you of claim progress using a "stage process", so you can track your progress easily. Please remember though, that you do not need to use a claims management company to make your complaint to your lender, and if your complaint is not successful you can refer it to the Financial Ombudsman Service yourself for free.
Step 1

Pre complaint investigation and analysis

Step 2

Formal mis-selling complaint made

Step 3

Lender responds with a Final Response Letter

Step 4

If appropriate resolution cannot be reached with the lender, referral to Financial Ombudsman Service.
Our Fees
Our success fee is due only if your lender makes a compensation payout, and is calculated on the amount of the compensation payout. We do not charge you for any part of a settlement that results in the lender reducing your outstanding balance – that is on the house!
The success fee amount is calculated using a band charging system. There are five charging bands. Each band has a maximum amount that we will charge.
Success Fee Charging Table
| | | | |
| --- | --- | --- | --- |
| Band | Compensation Payout | Percentage rate the Success Fee is calculated on  (including VAT) | Maximum Success Fee in band (including VAT) |
| 1 | £1 to £1,499 | 36% | £504 |
| 2 | £1,500 to £9,999 | 33.60% | £3,000 |
| 3 | £10,000 to £24,999 | 30% | £6,000 |
| 4 | £25,000 to £49,999 | 24% | £,9000 |
| 5 | £50,000 or more | 18% | £12,000 |
Below are examples of how this would work in practice.
Lower example
Higher example
Band
Compensation Payout
Success Fee
Compensation Payout
Success Fee
1
£100 
£36
£1,499 
£504
2
£1,600
£537.60
£9,999 
£3,000
3
£12,000 
£3,600
£24,999 
£6,000
4
£30,350 
£7,284
£49,999 
£9,000
5
£55,000 
£9,900
£100,000 
£12,000
If you want to see how much we would charge for a specific amount, please visit our online fee calculator at https://allegiant.co.uk/unaffordable-lending-claim-fees.
Please note that the examples in the tables are for illustration purposes only. They are not an estimate of the likely outcome or success fee.
Cancellation
You can cancel for free at any time within 14-days without giving any reason and without incurring any liability. You can communicate your cancellation by telephone, post, email or online.
You can cancel this agreement at any time after the 14-day cancellation period. However, if a complaint submitted by us is successful, the Success Fee will apply in the usual way.
You can cancel by post: Allegiant Finance Services Limited, Freepost RTYU–XUTZ–YKJC, 400 Chadwick House, Warrington Road, Birchwood Park, Warrington, WA3 6AE; (b) by email: helpdesk@allegiant-finance.co.uk; (c) by telephone: 0345 544 1563; or (d) online at https://allegiant.co.uk/compliance/cancellation.
The Smart Choice For Unaffordable Lending Claim Representation
A trusted name
Allegiant Finance Services is widely regarded as a pioneer in the high cost loan claims management market.
Friendly and experienced advisors
Contactable by email, phone, or post, whichever you prefer
Confidential & Discreet
We will only correspond with you and keep your details secure. We'll never sell your data.
True Online Application System
Much more than a contact form. With our full online application process you will receive an instant automated decision on whether we can take on your claim
Over £67+ million recovered
We are proud to have recovered over £67m for unaffordable lending claims since 2013
Proven Track Record
We've been claiming high cost loan refunds since 2013