Whether you have been a victim of a scam or not in the past, you will know that you don't want to get caught out – and lose your money to a scammer. We are going to talk about some of the steps you can take to avoid being caught out by a scam.
This is not about Victim Blaming; it's about taking easy and sensible steps – in the same way that you would lock your car or your house to prevent burglary.
Phishing
'Phishing' is where a criminal uses a text message, email or phone call, whilst pretending to be from a legitimate company. The victim might be invited to click on a link, which might take them to a fake website – where sensitive information, like passwords, can be captured. Or, the link might lead to malicious software being downloaded.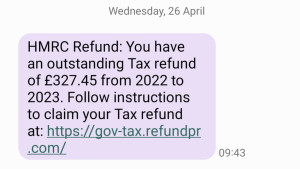 This is an example of a scam HMRC text message. It is trying to get you to click on the hyperlink and enter your personal details.
Whoever it claims to be from, if you receive a message out of the blue, telling you you're entitled to money, you should be sceptical. It would be much safer to ignore the link, and instead use your internet search engine to track down the legitimate website with the genuine contact details.
Major societal issues like COVID-19 and the Cost of Living Crisis have been fronts for criminals to carry out scams. Be on the look out for messages that are written in a way that they could apply to almost anyone – and don't relate to any products or services you've recently signed up to.
Relationship scams
Some people find the above phishing scams fairly easy to spot. But what if you think you've found your soul mate on a dating website? It might feel like you can trust this new person you have met.
Some scammers use dating websites to win people's trust and get money from them. Here are some things which should make you suspicious:
They ask for your personal information – such as address, date of birth or bank details. A prospective new loving partner you haven't met in person shouldn't need these details.
In return, they are very vague about themselves, and give no information that can be checked out.
They might tell an emotional story about why they need money from you – such as an ill relative, or that they need money to come and visit you.
In situations like the above, never send money to someone you've never met – no matter how much you think you know them. If you are using a dating platform, keep the communication within that platform and don't be persuaded to message by other methods. It means that you can more easily Report or Block a person who you are not comfortable speaking to anymore.
'Too good to be true'
In general, there is value in the old saying that if something sounds 'too good to be true', then it probably is.
Don't be afraid to carry out background research using trustworthy search engines and websites. Legitimate companies and genuine people won't promise you the world. By researching into a company, you can see the positives and negatives of the service offered. For example, if you wanted to research into Allegiant Finance, you could do the following:
Search for the Financial Conduct Authority's Financial Services Register. This shows that Allegiant is regulated in the UK by the Financial Conduct Authority.
Search for the Financial Ombudsman Service (FOS). FOS publishes decisions it makes online about disputes between consumers and financial services companies – including claims management companies, such as Allegiant. We are open and honest about our complaints procedure and acknowledge that sometimes things go wrong, and a customer may want to complain about Allegiant. We are proud to say that complaints about Allegiant are few and far between, but some of these are viewable online if you would like to read them.
You can also search 'Companies House' which contains information about real UK businesses, including Allegiant.